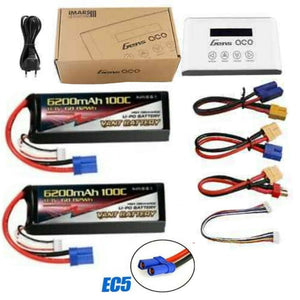 Gens Ace
COMBO Gens Ace IMars III Pro 10A LIPO Battery Charger + 2 VANT 6200MAH 100C 3S
Regular price
$154.99
$0.00
Unit price
per
use code "chicago10" and save 10% off your order plus Free Shipping
Description:  THIS IS A COMBO FOR A GENS ACE I MARS 10AMP LIPO CHARGER AND 2 VANT 6200MAH 3S 100C LIPO BATTERIES WITH EC5 PLUGS FOR ARRMA
Vant Batteries offer an excellent value by providing factory direct pricing and quality that meets or exceeds that of other major battery manufacturers. Vant Batteries go through strict testing and quality control procedures in order to provide extremely accurate mAh, Voltage, and C ratings. Don't let their low cost fool you, these batteries outperform major manufacturers batteries!!
Features:
True Capacity and C-Rating
Thick 12AWG Discharge Leads
EC5 High Current Style Connector
JST-XH Balance connector


11.1V 6200mAh 100C size: 132x44x30mm  365g 
Instruction:
Connect the charger to the power supply. The IMARS III PRO LOGO will display for about 2 seconds before entering Charger mode. The top-level menu is divided into 3 functions. By pressing +/- buttons, the user may select between charge mode, battery check mode, and system setting mode.
IMARS III PRO pass the FCC, CE and RoHS certifications, making your RC charging more safety. Lightweight design allows you to quickly charge the battery anywhere, anytime.
Features:
1. Single Channel AC Balance Charger
2. Small & Lightweight Portable Design
3. Smart balance charging
4. Capable of 10 amp charge rates, worldwide 100V-240V voltage versatility, with 100 Watts of power
5. Built-in PFC circuit
6. Temperature compensation function
7. Controlled heat dissipation system
8. Quiet inner fan
Specifications:
- Maximum charging voltage: 26.4V
- Maximum charging power: 100W
- charge current: 0.1~10A
- Discharge current: 0.1~1.5A
- Cell Balancing: 2~6s
- USB output: 5V/2.4A
- Dimensions: 146x87x40 mm
- Product Net Weight: 0.4kg
- Display type: Backlight 2x16 LCD
- Supported battery chemistries: LiPo/LiFe/LiHv (1-6S)、NiMH charge (3-18S)、NiMH discharge (1-10S)
- Accessories included: AC Input Cable / Balance adapter board / XT60-T plug adapter / XT60-EC3 adapter/ XT60- EC5
---