RPM
RPM 80562 Traxxas Revo 3.3 & E-Revo True-Track Rear A-Arm Suspension Set
Regular price
$35.99
$0.00
Unit price
per
use code "chicago10" and save 10% off your order plus Free Shipping
RPM 80562 Traxxas Revo 3.3 & E-Revo True-Track Rear A-Arm Suspension Set Black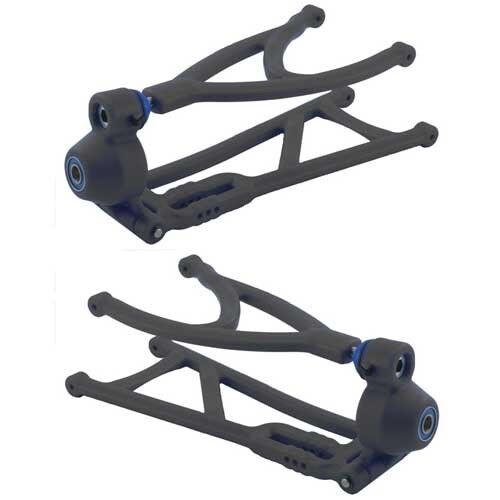 RPM80562
This is the RPM True-Track Rear A-Arm Conversion in Black for all versions of the Traxxas Revo 2.5, 3.3, E-Revo, and E-Revo Brushless. This setup is lighter, stronger, and eliminates the bump steer of the rear end!
The RPM True-Track Rear A-arm Conversion Kit for the Revo eliminates some of the biggest headaches associated with toe link rear ends. Rear toe angles are nearly impossible to set accurately and there isn't a gauge currently made that can accurately identify whether each individual wheel's toe angle is set correctly in relation to the chassis. The RPM True-Track rear end kit completely eliminates the rear toe links, locking in the rear toe angle at a solid 1.5 degrees per side for a total rear toe-in angle of 3 degrees. By getting rid of the rear toe links, we've completely eliminated all rear bump steer! That means the rear toe angle remains consistent throughout the entire range of suspension travel, providing superior rear end tracking regardless of the terrain. Identical to our T/E-Maxx True-Track Kit, the Revo True-Track Kit retains the stock upper pivot ball in the new, ultra beefy RPM axle carrier to allow precise camber adjustments while the lower pivot ball has been eliminated in favor of a rock-solid 4mm diameter hinge pin that locks in the rear toe angles for race winning consistency. All aspects of the RPM True-Track Conversion Kit have been beefed up for rugged durability and slop free movement throughout its range of travel. Additionally, we've incorporated our oversized bearings into the new RPM axle carrier design, providing an additional 2mm more bearing contact with the axle while doubling the bearing load rating & tripling the fatigue rating over the stock bearings.
So does all this come at a cost of added weight? The RPM Revo True-Track Rear A-arm Conversion Kit actually weighs LESS than the stock components it replaces! How much less? 16 grams PER SIDE! That's a total weight loss of 32 grams or 1-1/8 ounces! That means you get perfect rear toe angles, added A-arm strength, bearings that are more durable & longer lasting, an unbeatable breakage warranty and a reduction in weight! What more can anyone ask for?
"Bump Steer" Defined: So what is "bump steer"? Bump steer is a change in the wheel's toe angle caused by the suspension moving up or down. Bump steer is inherent to the geometry of the suspension and steering system, and has nothing to do with turning the steering wheel. The effect of bump steer is for the wheel to toe-in or toe-out when the suspension moves up or down. This toe change or "steering" occurs any time the suspension moves, whether it is from body roll, brake-dive, or hitting a bump in the road. Bump steer is undesirable because the suspension is steering the car instead of the driver.
Bump steer is most common on the front end of R/C vehicles due to the unavoidable use of a tie rod to allow the vehicle to steer. Vehicles with a toe link rear end such as the Revo also have a similar amount of bump steer in the rear because the axle carrier isn't locked in a fixed position and is constantly being pushed and pulled by the toe link as the suspension moves up and down. This doesn't account for the slop in the rod ends of the toe link either which causes even more toe angle changes. See for yourself. Look down at your vehicle from the top and compress the suspension. See what happens to the rear toe angle? Each wheel changes by at least a degree or two which can be quite significant. Now imagine that amount of movement while your suspension arms are moving independently from each other and you'll understand why the True-Track kit is such an effective tool to dramatically improve suspension performance.
What's Included: Our Revo True-Track Rear End Kit consists of two upper rear A-arms, two lower rear A-arms, two beefy rear axle carriers, two outer 6x15mm sealed bearings, two inner 12x21mm sealed bearings, two aluminum pivot ball setscrews, two delrin pivot ball bushing cups, two M3x16mm shock mount screws, two 4mm diameter tool steel hinge pins & enough e-clips to get the job done (4 minimum).
Tech Notes: These rear end kits work on all versions of the Traxxas Revo. One kit will complete the entire rear end of any Revo. These kits will not work in conjunction with Traxxas (#5356) 120-LT Long Travel Rockers.
Features:
Eliminates stock rear toe links, locking in the rear toe angle at 1.5° per side for a total rear toe-in angle of 3°

Eliminates all rear bump steer for better rear end tracking regardless of terrain

Replaces lower pivot ball with a 4mm diameter hinge pin for constant rear toe angle

Retains stock upper pivot ball to allow camber adjustments

Weighs a total of 1-1/8oz (32g) less than stock components
Includes:
Two each Upper and Lower Rear A-Arms
Two Axle Carriers
Two 4mm Hinge Pins
Four E-Clips
Two 3x16mm Shock Mount Screws
Two Aluminum Pivot Ball Set Screws
Two Delrin Pivot Ball Bushing Cups
Two 6x15mm Sealed Outer Bearings
Two 12x21mm Sealed Inner Bearings
Instruction sheet
---