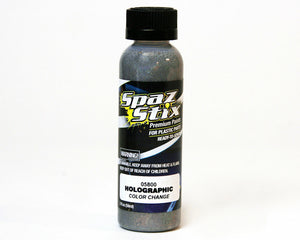 Spaz Stix
SPAZ STIX HOLOGRAPHIC COLOR CHANGING AIRBRUSH PAINT 2 OZ SZX05800 RC R/C LEXAN
Regular price
$13.20
$0.00
Unit price
per
use code "chicago10" and save 10% off your order plus Free Shipping
SPAZ STIX HOLOGRAPHIC

 AIRBRUSH PAINT

SZX05800




OLOR CHANGING HOLOGRAPHIC PAINT 2OZ

 

Not sure what color to paint your vehicle? Spaz Stix Color Changing paint is the perfect solution. Our paint offers a "chameleon effect" which brings out a new color at every angle. When used in natural sunlight the colors are shifted even more than normal!

Recommended Backer Color: 
SZX00110 High Gloss Black backer 2oz Airbrush or SZX00119 3.5oz Aerosol




Features:



Use Spaz Stix Surface Pre Prep (SZX90050 or SZX90059) before painting to keep paint jobs- swirl and fingerprint free.


Spaz Stix Change Color paint's will appear lightly colored at first and build in intensity with additional coats.


To optimize Color Change effects for interior plastic applications apply 2-3 light coats of Spaz Stix Black/Backer (SZX00110 or SZX00119) behind the Color Change paint.


For exterior applications, apply Spaz Stix Black/Backer first, and then spray Color Change paint over it. Then seal and protect with Spaz Stix #SZX90109 Clear Coat.


Pre-thinned. Just pour it into your airbrush and spray.


BRAND NEW IN FACTORY PACKAGING
---