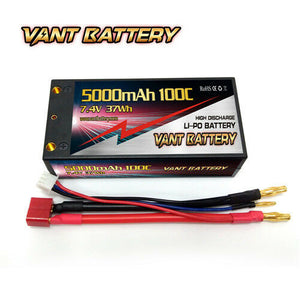 Vant Battery
VANT 5000mAh 2S 7.4 100C-200C Shorty LiPo Battery gens ace losi 22 protek reedy
Regular price
$44.99
$0.00
Unit price
per
use code "chicago10" and save 10% off your order plus Free Shipping
Description
Features: Shorty Pack Dimensions to fit vehicles such as the TLR Team Losi 22 Platform, Team Durango DEX210 Platform, Associated's B5, B5M, T5M, SC5M, B44.3 and MORE! True Capacity and C-Rating 4mm Bullet Output Leads for Continuous High Current Draw Thick 12AWG Discharge Leads Durable Hard Case Deans Ultra Connector JST-XH Balance connector Capacity: 5000mAh Voltage: 2S / 2 Cell / 7.4v Discharge Rate: 100C Constant (500A) / 200C Burst (10 sec) (1000A) Charge Rate: 2C (10.0A) Max, 1C (5.0A) Recommended Watt Hours: 37.00Wh Weight:7.6oz / 216g Weight w/ Wiring:8.2oz / 233g Dimensions LxWxH: 95.9 x 46.9 x 25.0 mm Discharge Plug: Deans Ultra Connector Balance Plug: JST-XH Includes: 7.4V 5000mAh 2S Cell 100C-200C Shorty HardCase LiPo Battery Pack w/ 4mm Bullet & Deans Ultra Connector Equipment Needed: LiPo Balance charger capable of charging 2 cell LiPo batteries Safety Notes & Warnings: LiPo batteries are potentially hazardous. Improper usage can cause fire or explosion. Charge and Store battery in LiPo-Safe Bag away from flammables on a concrete surface. Charge using a LiPo compatible Balance Charger ONLY! Never Charge above 4.2V per cell. Never Discharge below 3.2V per cell. Always use under adult supervision. The end-user is fully responsible for any results in using this battery pack.
Features:
Vant Batteries offer an excellent value by providing factory direct pricing and quality that meets or exceeds that of other major battery manufacturers. Vant Batteries go through strict testing and quality control procedures in order to provide extremely accurate mAh, Voltage, and C ratings. Don't let their low cost fool you, these batteries outperform major manufacturers batteries!!
WARRANTY: Vant Batteries are warranted to be free from defects upon delivery to the customer. They are warranted against failure for a period of 6 Months from the date of purchase. Misuse, abuse, or neglect by customer is not covered in this warranty. After the 6 Month warranty period, the Lifetime Replacement Plan takes effect. Under the Lifetime Replacement Plan, you can send in your battery to receive a replacement for 50% off the RETAIL price of the battery.
COMPATIBLE WITH:Virtually all 1/10 Scale Vehicles, especially those in need of short battery dimensions. Use the size specifications below to determine if this battery will fit your application.
NOTE: Due to the high output of this battery, it is highly recommended that you run the wires from your ESC directly to SOLID 4mm Bullets that will plug directly into the battery's 4mm bullet ports. Do not run a plug in between the ESC and the Battery such as a Deans, Traxxas, XT60, etc. This only increases resistance and may cause heat build-up and lead to melting of the plastic case or plug that is being used.
This 5000mAh battery pack will supply you with a HUGE amount of run time. This is great for long mains or even just playing in the yard for extended bashing sessions. And because of the high C-Rating, the power will be available at ANY time. When you grab a handful of throttle, this battery has the ability to send tons of juice to your ESC & Motor.
Product Details:
Product Dimensions: 3.8 x 1.9 x 1 inches
Item Weight: 7.7 ounces
---